While playing, I'm pretty sure everyone has come across something that was funny. So, I'm going to post all of my funny pictures here from all of my families. Check back every round or so, because I should have some new pics!
These two often think of each other… even when they should be thinking about saying goodbye to people. If they weren't family, I'm pretty sure they'd make out with each other.
Yep, I turn around for one minute and Randy is giving his girlfriend a noogy!
I'm not sure if the doctor would agree with this Demi. Playing goalie while pregnant isn't a very good idea.
This is what you pay for, folks! While your kids are starving, the nanny decided that it would be great if the household had pretty butterflies to slow off that will die in a day.
I know this isn't exactly funny just looking at it. But in the game, no one was home. Do you think they could have went next door where someone was home to fight? I mean, they could have sold tickets for this event if someone was home.
Crumplebottom strikes again.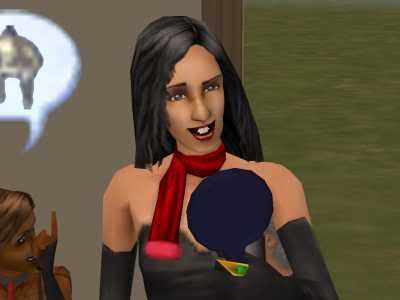 Mmm, missing teeth? And what's funny is that she ACTS like a diva, she LOOKS like a Diva, but is she a Diva? No, she's dirt poor.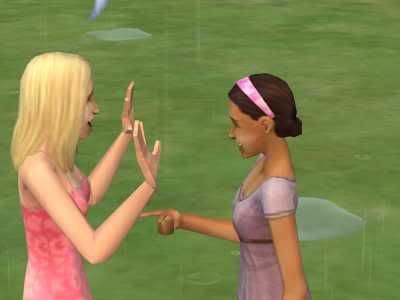 Lisa: Haha, you don't have fingers
(This was before I realized my graphic settings were wrong)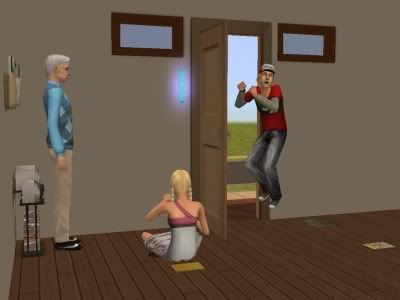 Zack: Oh yeah! Oh yeah! You do homework while I'll just jump out the door.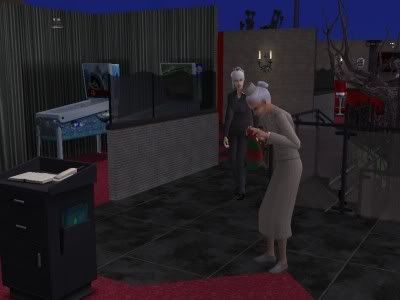 Crumplebottom: Hurry up sister! I want a table!
Crumplebottom: Mmm… adoption… maybe that's why I'm so rude.
Randy: Um… yeah o_0
Crumplebottom: *eye twitch* Public affection… must… beat up with purse!
(I didn't get a picture (dang!) but afterwards, she started to beat up the minors =D)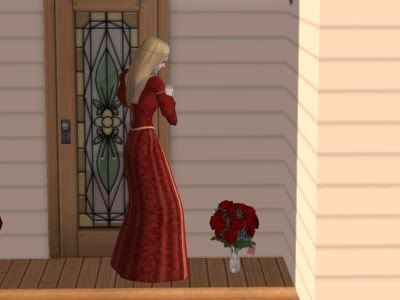 Opal: Oh here, Tyrone! This is for you, we had such a – wait… SUN! I MUST FLEE!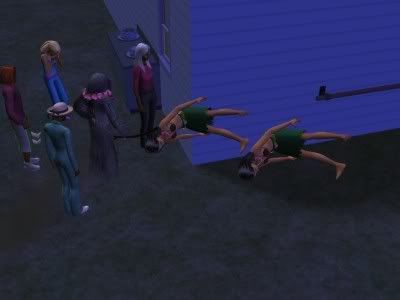 Grim: Deloris… it is your time… *sees hula dancers* Oh, wait a minute, I must straighten out them first. Stupid rentals. You'd think that nothing would go wrong in the afterlife! This is supposed to be "perfect".
Kelly: Let's hang loose!
Tyrone: o__o Sure… just get your leg out of MY money!
Savannah: Ahh… I just had the most HORRIBLE dream… I went to college… oh no, I'm still here!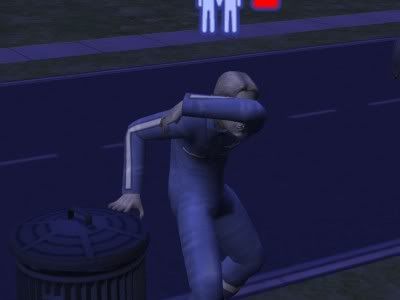 Tyrone: Bleh, I must not look into the garbage where I stick my hand through the lid… bleh.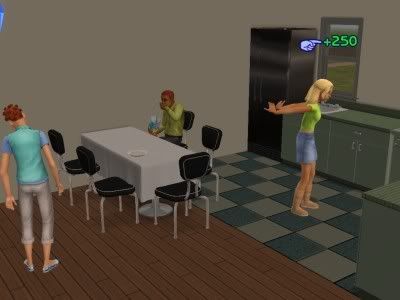 You have to be a pro to be able give a massage across the room.